Places of Worship
Trinitarian Church, Wayland MA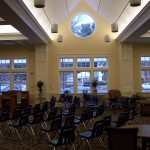 This was a fun and colorful project for Chamberlain Companies, Inc. Using lots of bright colors such as oranges, yellows, and reds we were able to create a stimulating learning environment for the children. The pre-school rooms were also fit-out with custom-made "mouse-hole" doors, counters and sink areas designed at just the right height. A new plastic laminate welcome desk, along with a marker board and lots of open cubbies, was installed in the main lobby hall. Plastic laminate was also used for window stools throughout the building. Plenty of custom storage cabinets can be found throughout all classrooms, the sanctuary and in the kitchen area.
 

CLICK EACH PHOTO FOR LARGER VERSION
St. Johns Curch, Cambridge MA
This project entailed the construction of a classroom wing with a chapel / multi purpose room, and administrative areas. We completed casework for all ten classrooms,as well as counters and cabinets for the administrative areas. A key portion of the project was to clad the entry corridor outside the multi purpose room / chapel, and key walls inside the chapel area. The maple veneer was made to pass over entry doors (both sides) and bi-folding doors at the head of the chapel room, without sequence breaks. Our engineering department laid out the entire panel sequence prior to purchasing the veneer. Our finishing department pre-finished all of the paneling in our shop. This was an AWI certified project.
CLICK EACH PHOTO FOR LARGER VERSION