South Shore Medical Center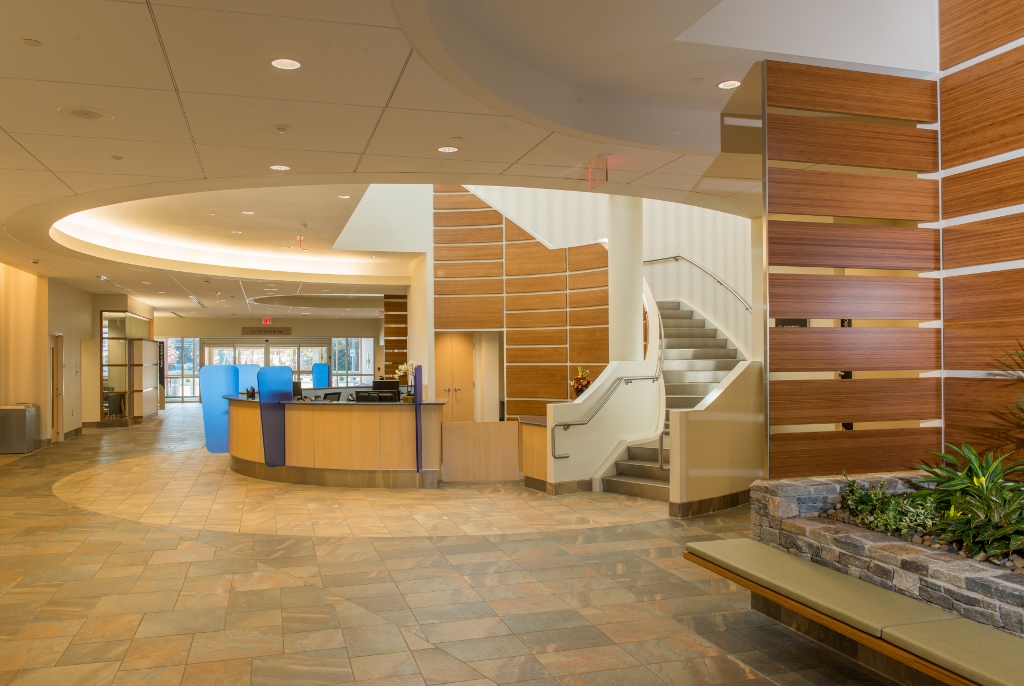 CHAMBERLAIN COMPANIES, INC. RECEIVES AWI AWARD FOR EXCELLENCE FOR WORK AT SOUTH SHORE MEDICAL CENTER
Norwell, MA – Chamberlain Companies, Inc. has been recognized by the Architectural Woodworking Institute (AWI) for quality and innovative woodworking exhibited at the South Shore Medical Center. The Award of Excellence distinguishes the finest custom architectural woodwork projects of each season and recognizes such companies for their efforts.
South Shore Medical Center is located south of Boston and is the home to over 80 providers that specialize in internal medicine, family medicine, pediatrics, wellness, surgery, and obstetrics/gynecology.
Working with Steffian Bradley Architects, Campanelli Companies, and Murphy McManus, the new South Shore Medical Center combined two medical facilities into an 84,000 square foot ambulatory care building. Chamberlain Companies, Inc. displayed its versatility creating custom reception desks, bamboo and maple wood paneling for the lobby and waiting areas, and color coded nurse stations for each medical department. For the combined efforts and success of the project, all four companies received the AWI Award for Excellence, and the work was featured on the cover of AWI's Design Solutions Spring 2014 issue.
In the Design Solutions feature article, Jackie Royer of Steffian Bradley Architects noted that, "The Chamberlain team implemented the woodwork design concepts with impeccable craftsmanship and was instrumental in the success of this project," and "Chamberlain was an outstanding member of the project team."
Chamberlain Companies, Inc. is proud to have collaborated with such formidable companies and finish the job at the South Shore Medical Center with rewarding end results.